Covid-19 update:
Planet is (almost) running as normal
Dear readers,
You can continue to renew, subscribe, buy single issues & books via our website as normal https://planetmagazine.org.uk/shop, https://www.planetmagazine.org.uk/books. There may be a slight delay in posting out issues and books, but they will be despatched.
Alternatively, have you considered taking out a digital-only subscription? This includes everything in the current issue + access to back issues from 2015 onwards + extra multimedia features - all for only £21: https://planetmagazine.org.uk/shop
For any enquiries please email [email protected]
We have been publishing all issues on schedule throughout the pandemic and we hope that immersing yourselves in magazines like Planet will make staying at home a little more bearable.
We wish all our readers and their families the very best in difficult times,
Cofion cynnes,
Emily, Hywel and Lowri

08.02.21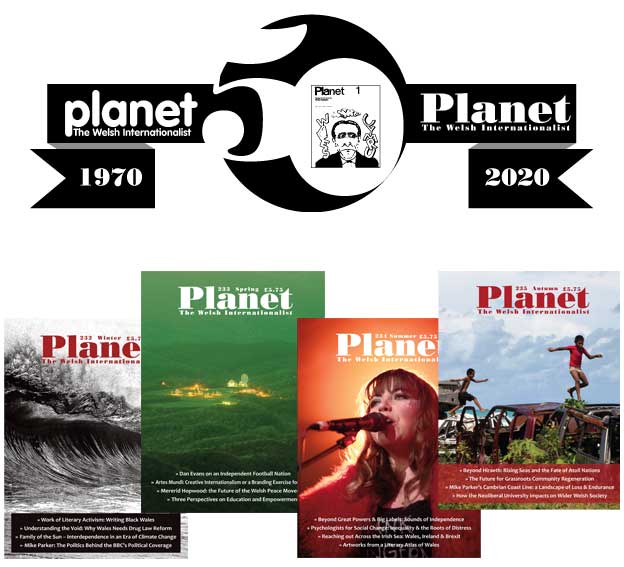 "Since its inception almost half a century ago, Planet has consistently pushed our boundaries of discourse. It has challenged, provoked and inspired, and always remained true to its own subhead ('The Welsh Internationalist') by placing our small country in far wider contexts. In a world where so many are hell-bent on building barriers and narrowing horizons, we need it now more than ever." - Mike Parker, author.
You can contribute to Planet's future following successive cuts to our funding by taking out a Supporters' Subscription. Our new Supporters' Subscription packages include a range of exclusive products, benefits and reading experiences drawing on nearly 50 years of Planet's history. For more information please click here.