Cymru, yes?
by Patrick Jones
In the lead up to the General Election, poet Patrick Jones gives the case for why independence for Wales is the only way out of our current malaise of austerity, hopelessness and xenophobia, and celebrates the people and historical movements that have inspired his stance.
'The Welsh language is a vast drawback to Wales and a manifold barrier to the moral progress and commercial prosperity of the people'
The 'Blue Books':The Report of the Commissioners of Inquiry into the State of Education in Wales, 1847
'The Welsh language is a maypole around which a bunch of hotheads can get all nationalistic.'
Jeremy Clarkson, 2011
Wales is used to being attacked.
You only have to look at how Westminster is treating those who they rule to realise something has to change: zero hour contracts, the rising level of homelessness, foodbanks deemed 'good for communal spirit' by politicians, punishing people (many of whom are in work) through benefit delays and sanctions for struggling and falling off the edge of society ̶ a reality so common that barely anyone blinks an eye. Then of course there is Brexit… I could go on. Furthermore, Westminster austerity also leads to cuts to devolved areas such as the NHS, housing provision, education, community centres and libraries due to reductions in the block grant to the Welsh Government, and a grossly unfair Barnett funding formula that disadvantages Wales. On top of this, the fact that Welsh Labour as a unionist party is so wedded to the neoliberal orthodoxy of the British state means that devolved government in Wales colludes with the austerity regime at Westminster. Only in the past week Labour joined with the Tories in the Senedd to block a law that would give the Senedd a veto over international trade deals that could open the NHS up to privatisation.
My point is that it is time we looked to ourselves to create the sort of society we want: a society based on mutuality, collaboration, connection, representation, tolerance, inclusivity, sustainability and hope. This isn't an idealistic vision. It is based on practical considerations: we have the natural resources, we have the strength of spirit, and with these we potentially have an infrastructure upon which to build good jobs, good homes, better lives.
Furthermore, look at our heritage and history. The Miners' Institutes, the libraries, the medical aid societies, the Chartists, the Merched Beca, the Scotch Cattle, the Merthyr and Newport Risings, the Suffragettes, those who went to fight against fascism in the Spanish Civil War, the women of Greenham Common, the striking miners in 1984-5 and the women's groups of the Miners' Strike, Cymdeithas yr Iaith Gymraeg…
In the present day, look how the vandalism of the Cofiwch Dryweryn monument galvanised a new generation of activists and thinkers. Look at our poets, writers, actors, boxers, athletes, thinkers, musicians and politicians. Look at how third sector agencies like Llamau and Alzheimer's Society Cymru campaign for social justice. Look at Yes Cymru, Undod, Wales Football Fans for Independence and a more modern, inclusive Plaid Cymru. Things are changing. There is an appetite for reconstruction.
Look how we have welcomed people from all over the world and how communities speak up for those refugees told to 'go home', and how we value so much all they have given this tiny, massive land. This is their home.
We are a culture not prepared to sit down and simply take it. It is time we stood up again and faced the enemy without fear. We now see an emphatically internationalist nationalism, something I sensed in September 2019 when I joined the All Under One Banner march for independence in Merthyr. Here I read a poem entitled 'Trawsblaniad Enaid/Soul Transplant' about welcoming Syrian refugees into this land, headed by a bigoted quote by David TC Davies, MP for Monmouth. It was greeted with applause and unity of purpose. Now, can you imagine this sentiment at an English Nationalist march? It ends:
FOR
WE ARE ALL TRANSPLANTED
FROM SOMEWHERE
BROUGHT IN BY THE BREEZE
FROM SEA TO SHORE
SETTLED ON FALLOW GROUND
GRATEFUL FOR THE SUNLIGHT
WAITING FOR THE RAIN
AND IF THEY TRY TO BURY US
WE SHALL DIG DEEP
CLING TO OUR PAST
SPROUT ROOTS
AND FROM THE LIVED PRESENT
INVENT OUR FUTURE
YOURS AND MINE
COME,
LET US CULTIVATE OAK AND OLIVE TREES
SIDE BY SIDE
OCHR YN OCHR
YMLAEN.
I see a correlation with Allende's Chile in the early ̓ 70's where culture, social justice and politics fused to remake society. A society that frightened the US so much the CIA participated in its destruction and the installation of General Pinochet. What would Trump make of the progressive society so many of us are trying to forge…?
We can learn from our tragic, yet glorious past and with hard work instigate a positive, shining future. A future where no one is homeless. Where everyone has a meaningful, life-supporting job. Where everyone has access to a dentist and a doctor. Where aspiration is not limited by postcode. Where everyone has the chance to learn and speak Welsh. Where everyone will be cared for and supported in old age. Where everyone, no matter their age, gender, class, colour, religion, disability, race, ethnicity or sexual orientation has equal opportunities. This is my Wales. And Johnson, Clarkson and Farage can fuck off from it. Gather around the maypole I say, and dance, dance.
'Ry'n ni yma o hyd, er gwaetha pawb a phopeth'
('We're still here, despite everyone and everything.')
Dafydd Iwan 'Yma o Hyd'
'Now, there's a small corner of Wales that will forever be Cameroon, and vice versa.'
Eric Ngalle Charles
'Creu gwir fel gwydr o ffwrnais awen'
('Creating truth like glass from inspiration's furnace') ̶ the inscription on the side of the Millennium Centre
Gwyneth Lewis
If you appreciated this article, you can read longer articles on a wide range of topics in Planet magazine, and you can buy Planet here.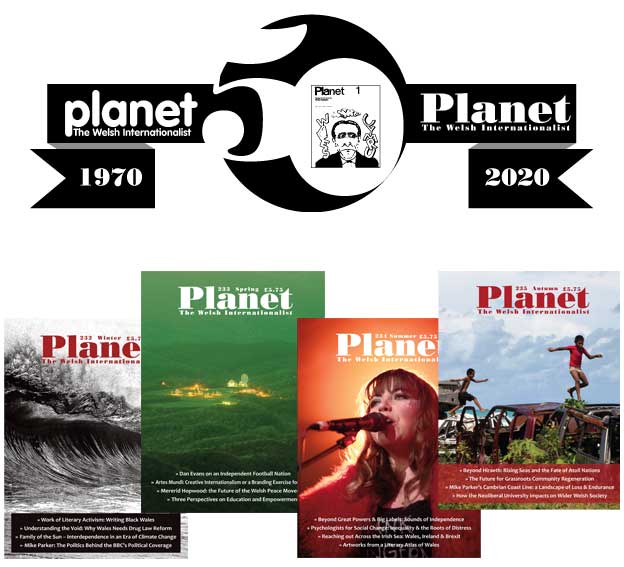 "Since its inception almost half a century ago, Planet has consistently pushed our boundaries of discourse. It has challenged, provoked and inspired, and always remained true to its own subhead ('The Welsh Internationalist') by placing our small country in far wider contexts. In a world where so many are hell-bent on building barriers and narrowing horizons, we need it now more than ever." - Mike Parker, author.
You can contribute to Planet's future following successive cuts to our funding by taking out a Supporters' Subscription. Our new Supporters' Subscription packages include a range of exclusive products, benefits and reading experiences drawing on nearly 50 years of Planet's history. For more information please click here.