Review: Merch yr Eog 11.10.16
Dr Roger Owen finds dramatic friction on-stage and off in Theatr Genedlaethol Cymru's most recent production.
Theatr Genedlaethol Cymru's latest show, Merch yr Eog/Merc'h an Eog (The Salmon Girl), is a bold trilingual co-production with the Breton company Teatr Piba and Aberystwyth Arts Centre, and is due to tour Wales, England and Brittany during October and November. The play is an impulsive reverie on belonging and displacement, based on original script work in Welsh, Breton and French by Owen Martell and Aziliz Bourgès, and co-directed by Sara Lloyd and Thomas Cloarec. The mythical-sounding title gives a possible clue to the treatment of the main theme, as the central dilemma of the play – how to accommodate a sense of cultural belonging into one's life – is dealt with in a highly eclectic way.
We are presented with the story of Mair (played by Lleuwen Steffan) who, having settled in Brittany after studying at Rennes University, has fallen in love with Loeiza (Loeiza Beauvir). Following the death of her great-aunt Gwyneth, Mair is faced with a decision: should she return to the farm which Gwyneth had worked alongside great uncle Gwilym (Dyfan Roberts, wielding an intriguingly unfamiliar west-Wales accent), or continue with the life which she had built for herself in Brittany? Even though her upbringing and subsequent choices have not equipped her for a life on the land, the farm is clearly a place which constitutes a totem of her cultural identity as a Welsh woman.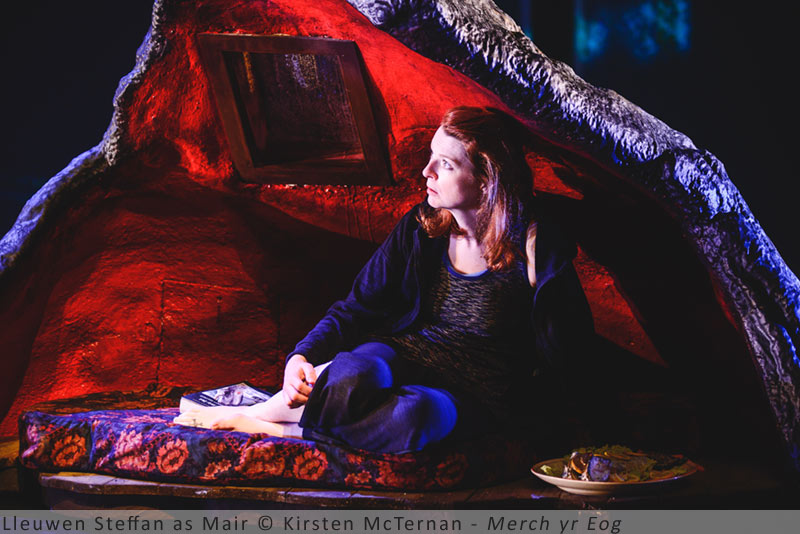 Her story is told largely through everyday dialogue (as far as my limited grasp of French and Breton would allow me to discern); but the production juxtaposed these realistic encounters with a series of quirky parallel images: a skulking rat, a bull stalking two Friesian cows (all played by actors in costume); the infirm, hack-coughing guests of a seaside spa dressed in white bath robes; and the strange, revolving central scenic object designed by Nadège Renard which doubled as a rock and curious oyster-shaped bedroom. All these occupied a world apart from the dialogue, and made the character-driven action seem rather pale by comparison.
Part of the problem could be the technology involved in helping to disseminate the text. The production utilises a mobile app called sibrwd (whisper), the purpose of which is to provide an easy and discreet commentary on the action for those without a working grasp of all three languages. The logic of the app is that it should be like having a dedicated friend whispering the basic constituent elements of the plot in one's ear, thus enabling the audience to maintain focus on the stage. In practice, however, it proved enormously and tediously invasive. It was often out of synch with the action, cut out at certain points, and upset the process of forming a relationship with the characters. Moreover, the voice in the ear was far more intimate than the stage action, and had the effect of making the stage seem impossibly far away.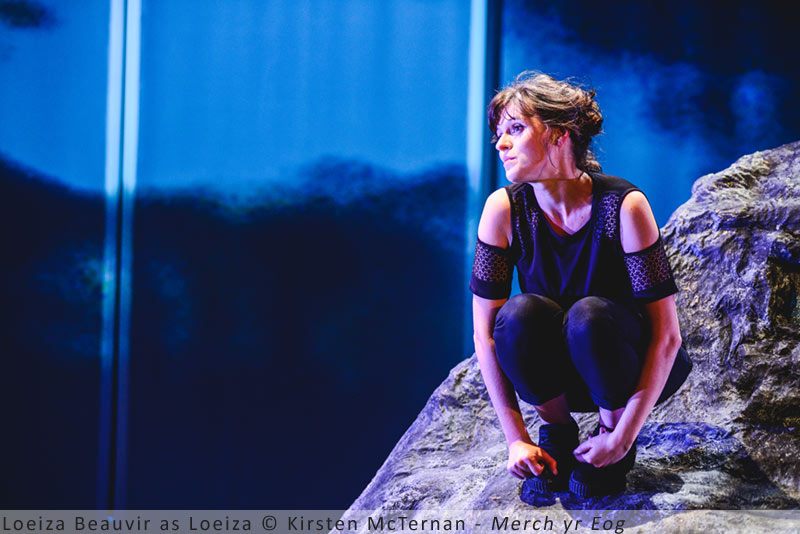 By the time one arrived at the resolution of the action, therefore (where Mair decides to leave Loeiza and return to Wales), any interest the story may have held had been compromised. Fatally, it was impossible to care about the characters, and this was not helped by the fact that the dialogue scenes were, to be frank, dull. They lacked movement and emotional dynamic, and reverted to cliché in using T.H. Parry-Williams' poem 'Hon' as a means of resolving Mair's internal dilemma. Having said that, the encounter between Mair and a migrant neighbour in Rennes (played by Steve Brudey) – who brings her a salmon, despite being far from prosperous or rooted – did raise interesting questions about how to constitute a life in society. His view, to the effect that the value of the gift does not reside in its box, contrasted directly against her sense of hiraeth, and suggested itself as the central cultural conflict between the Welsh and Breton companies' view of the theatre as an artistic and social form.
This lack of coalescence between the Welsh and Breton view was somewhat fascinating, but, unfortunately, it suggested that the collaboration between the two companies has not yielded a fully realised logic for what they were doing together. I would certainly not be averse to the idea of seeing Theatr Genedlaethol Cymru stage more collaborative work in future (their 2013 work Rhwydo/Vangst, with Roos van Geffen, was far more successful), but this project had quite some way to go before being fully developed. Similarly, while sibrwd does have its stengths as a technology its alienating impact on the viewer's experience is such that a production's scenic functioning has to be built around it from the very start.
Merch yr Eog will be touring the followng venues:
Pontio - Bangor, 11-12 Oct
Neuadd Dwyfor - Pwllheli, 14 Oct
Galeri - Caernarfon, 17 Oct
Y Lyric - Caerfyrddin, 20-21 Oct
Stwidio Weston - Caerdydd, 25-26 Oct
The House - Plymouth, 29 Oct
L'Arthémuse - Briec, 3-4 Nov
Le Théâtre du Champ au Roy - Guingamp, 15 Nov
La Maison du Théâtre - Brest, 17-18 Nov
Le Théâtre du Pays de Morlaix - Morlaix, 24 Nov