Our readers respond to half a century of Planet!
This year, as the pandemic necessitated Planet's 50th birthday party to be postponed until regulations are lifted, we invited our readers to send in their stories and anecdotes about the magazine. We thank everyone who replied for sharing their thoughts, and hope to welcome readers near and far to a celebratory event before too long…
Where do all the old copies of Planet go? Are they archived on home bookshelves for years, passed from friend to friend to friend in an endless trail or do they gradually work their way through the charity shops? I picked up a very plain buff-coloured copy of Planet circa 1974 in a charity shop first of all. Bobi Jones' now classic article 'The Roots of Welsh Inferiority' drew me in and I have quoted from it many a time since, troubling on a double inheritance. Yet it took me a at least a decade more before I built my own attachment. I was in Siop y Pethe in Aberystwyth on a day out when I saw the copy that has a vibrant calypso player on the front cover (number 127). I thought it rare at the time to see a black fellow in such a spot and felt the need to rescue him. It was a happy identification that got me going on a long exploration of connections Caribbean/Welsh. So now I commit my old copies onward in the hope that others get the bug and Wales finds its readers wherever. This month a few carefully selected copies went to the Welsh church on La Trobe street; I left a bundle at the local 'Op' shop' and the chap around the corner on Cluny Avenue flying a Welsh flag is going to get a copy through his letterbox later today. I feel the need to rescue him
Charlotte Williams OBE. Melbourne, Australia
***
Planet has opened a whole new Wales to me. It has given me the opportunity to hear a range of thoughts and ideas that I would have never come across. It has allowed me to read articles by such interesting people, their ideas I sometimes agree with and sometimes do not, but they are always stimulating.
Gareth Roderick
***
At the age of ten, I had my second Damascene moment (the first had been about the Welsh language when I represented Sir Morgannwg holding a lump of coal in infants school) as my parents had just moved to a council house where they had pinned a world map to the door of the downstairs toilet. I studied it with interest and was struck by how tiny Wales was in relation to the world – at that moment I determined that I would travel extensively to experience other cultures and communicate with other peoples. And so it has been... I have spent about half my working life overseas, but I always knew exactly where I was from and indeed, I have now returned to base from whence, like Planet, I can be a Welsh internationalist. 'Diolch o'r galon.'
Elaine Moore
***
I first encountered Planet during the first series in the 1970s when, as an undergraduate student, I was lucky enough to have Ned Thomas as my tutor. Having expressed an interest it was not long before he was passing me copies of back issues with articles that might further that interest. Some time later, I decided to attend a 'Fourth World Colloquium' event in Pembrokeshire and Ned commissioned me to write a report on the weekend for the magazine. By then I was a regular reader as I have been ever since. I had come to Aberystwyth University from London and decided to stay in Wales when I completed my degree. Planet was a key for me in absorbing the Welsh cultural scene from a congenial perspective and part of the cultural ethos that led to me learning Welsh and playing my own part in the cultural life of Wales in both languages, and of course continuing to contribute to the magazine under subsequent editors. The view it gave me then, and continues to give me now, of Wales as a nation looking outwards from an inner sense of communal identity, is one that I value and which has provided me with the keynote for much of my adult life.
Greg Hill
***
My father passed away in May. However, I wanted to let you know how much he enjoyed reading Planet over the years. He had been reading the magazine for at least twenty years, and it may well be quite a bit longer – I certainly remember it as a fixture in the family home going back at least into my teens! As someone who no longer lived in Wales, but retained a deep connection to Welsh culture, I believe my father valued the magazine greatly, and was particularly sympathetic to its internationalist outlook.
Anna Lewis
***
I have now read most of my first copy of Planet and I wanted to let you know what a refreshing joy it is. I have long craved and sought out something like this, an internationalist focus through a Welsh lens. With the fragile state of Welsh media, Planet is especially important, and whilst I absolutely value the role of the local and national media we do have, it tends to be sadly very 'tabloid' and 'press release' in nature. Planet is the nourishing and thought-provoking Welsh read I have longed for. Thank you to you and the team.
Benjamin Antoniou
***
I was born in Risca, Gwent, and lived there until I was eighteen, when I left home to go to university in London. I have not lived in Wales since.
I first saw Planet in a bookshop in Hay-on-Wye and bought a couple of back numbers. I liked what I read, and took out a subscription in 2003 (issue 158). Ever since it has fed and nourished my interest in Wales, and particularly in Welsh Writing in English. Before that I knew little of this literature beyond some works of Gwyn Thomas and Dylan Thomas. I began to read much more widely.
When I retired in 2014 I investigated postgraduate courses in Welsh Writing in English, and the following year began a Research MA in WWE at Swansea University. For almost three years I immersed myself in a study of 'The representation of Work and Industrial Relations in the Literature of South Wales between the Wars'. Without Planet, and the reading it set me off on, I doubt I would have ever considered doing this. So thank you. Diolch yn fawr.
John Boaler
***
Even though I have known Planet magazine for almost half of its life, a sense of relief and an excited anticipation are still triggered every time that distinctive brown envelope containing the latest issue drops through the letter box. Its arrival is akin to one having reached the next water hole.
After all, we are not blessed in Wales with an abundance of quality publications of this type and over the years Planet has become an even more precious cultural and intellectual commodity.
I have enjoyed being a Planet reader, subscriber and contributor, not only due to my primary interest in the visual culture of Wales but also because it has enabled me to encounter many engaging and thought-provoking, creative and critical voices on other topics as well.
The late Jan Morris's statement that 'time and again Planet has taken me upwards and outwards from the fulcrum of Wales to the farthest reaches of discussion and discovery' is apposite because, for me, her description of Planet's agency and the name and scope of the magazine itself conjure up St Exupéry's asteroid-dwelling protagonist and his subsequent journey.
Like that mythical figure, Planet and Wales may appear to be relatively small and insignificant but they are ready to engage with the new, to challenge the assumed and to understand what is timeless and important and to be cherished in the world.
Planet punches above its weight. Its development as a periodical and the esteem in which it is held represent a sort of coming of age. It is a publication we can ill afford to lose because it sustains us.
My bookcases contain some back copies from the Eighties and a continuous set from the late Nineties onwards, reflecting the fact that my first proper awareness of Planet coincided with the start of my own trajectory as a researcher of and writer on art in twentieth-century Wales and that bigger, societal trajectory occasioned by the advent of devolution.
For me and, I suspect, many others, Planet magazine has been an important forum and research source. It is a touchstone. That said, it would be wonderful if the fiftieth anniversary were used to complete its index.
Ceri Thomas
***
For more testimonials and responses to Planet from cultural figures including Jan Morris, Rachel Trezise, Menna Elfyn and Dan Evans from the last few years please see https://www.planetmagazine.org.uk/endorsements.
To find out more about the current issue of Planet, please see https://www.planetmagazine.org.uk/current.
To purchase issues, subscribe or renew please see https://www.planetmagazine.org.uk/shop.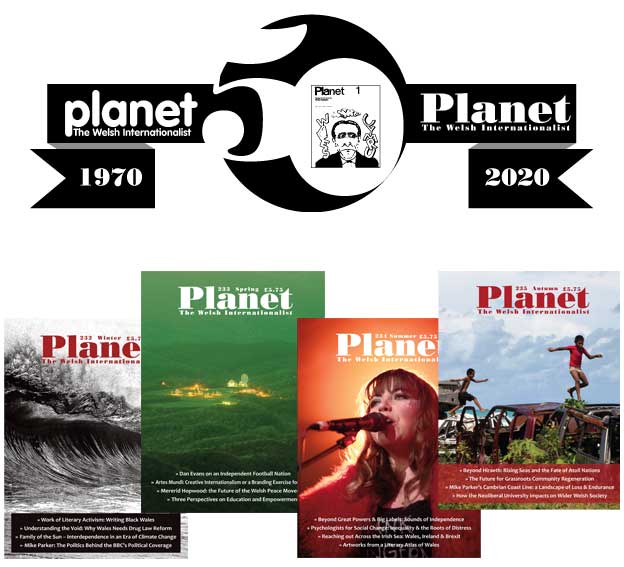 "Since its inception almost half a century ago, Planet has consistently pushed our boundaries of discourse. It has challenged, provoked and inspired, and always remained true to its own subhead ('The Welsh Internationalist') by placing our small country in far wider contexts. In a world where so many are hell-bent on building barriers and narrowing horizons, we need it now more than ever." - Mike Parker, author.
You can contribute to Planet's future following successive cuts to our funding by taking out a Supporters' Subscription. Our new Supporters' Subscription packages include a range of exclusive products, benefits and reading experiences drawing on nearly 50 years of Planet's history. For more information please click here.