Peter Wakelin celebrates the life and work of the Pembrokeshire-based artist John Knapp-Fisher.
by Peter Wakelin
Just a few artists have had the power to change how we see particular landscapes, among them John Constable in Suffolk and Eric Ravilious on the Berkshire Downs. John Knapp-Fisher, who has died aged 83, achieved something similar for the north Pembrokeshire coast, persuading visitors to experience that brutally beautiful landscape through his own eyes. Hundreds of thousands of visitors must have taken home as prints or cards his images of luminous cottages picked out against black skies. For many, his paintings expressed both the liminal nature of this most westerly coast and the refuge of its traditional buildings crouched against the elements.
John Knapp-Fisher was born in Kensington in 1931. His father, Arthur Bedford Knapp-Fisher, was professor of architecture at the Royal College of Art. After school at Eastbourne College in Sussex he studied graphic design at Maidstone College of Art. He followed national service with work as an exhibition designer, then in the theatre as a painter of flats and backdrops. Artists who excited him at the time would echo later in his work, including John Piper, Ben Nicholson and especially Christopher Wood, whose last hallucinatory paintings in Brittany are possessed of the same mysterious tension.

John Knapp-Fisher, Pembrokeshire Farm Buildings. Copyright John Knapp-Fisher estate, courtesy of Martin Tinney Gallery
The first of what he called his 'dark and light' paintings came in 1959, his subject a ruined cottage at Margate. He explained, 'I am seeking what I call "the edge of colour", where the earth colours and touches of primary colour emerge from the darks and where tonal relationships, quality, texture and chiaroscuro are all important.' Although he liked to say abstract art was 'a waste of time', an affinity for simplified form and an admiration for Mark Rothko showed in favourite subjects such as concrete harbour walls and the coast's layered headlands, sea-shadows and clouds.
When he married Sheila Bassett, also an artist, in 1960, they decided to live on a boat. Over the next five years he worked and exhibited in their floating home while they sailed between the harbours of south-east England. Their two children were born in Ipswich, Buzz in 1960 and Lucinda in 1964. In Suffolk they became friends of the pioneer of self-sufficiency, John Seymour, who was in the process of moving to a smallholding in north Pembrokeshire. They decided to follow, and in 1965 they bought a nearby farm.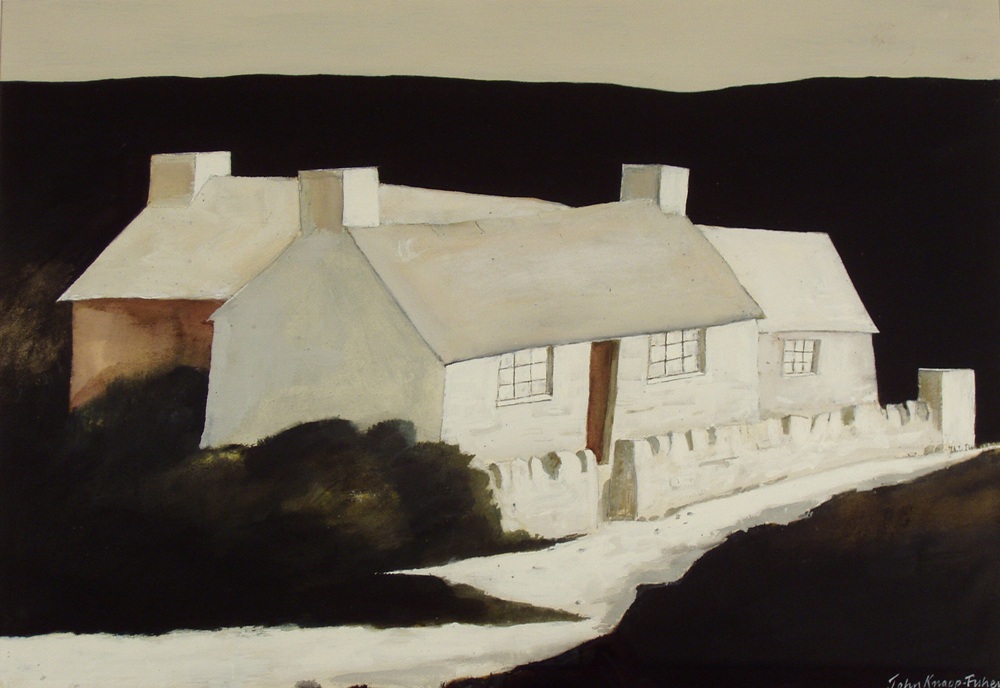 John Knapp-Fisher, Buildings Abereiddu. Copyright John Knapp-Fisher estate, courtesy of Martin Tinney Gallery
It was while exploring the coast that John came across the quarry harbour of Porthgain and fell in love. He wanted a home nearby where he might sell his work directly and they moved to a pair of single-storey labourers' cottages at Croesgoch, on the main road from St Davids. The two rooms of the old cottages became his gallery and he made a studio in the cow-house. Barely half the space was allowed for other living accommodation. The simple restoration and regularly replenished red-ochre limewash made the cottage a standard-bearer for Pembrokeshire's traditional buildings.
In 1968, he built his own small fishing boat Viking and supplemented his income by selling his catch. Soon afterwards he began an unlikely expedition to circumnavigate Wales, setting out from Porthgain and up the Severn and the canals. Nearing home, Viking was wrecked off Aberystwyth and he had to swim ashore. He wrote the story engagingly in Motor Boat and Yachting. Later he published John Knapp-Fisher's Pembrokeshire and some memoirs.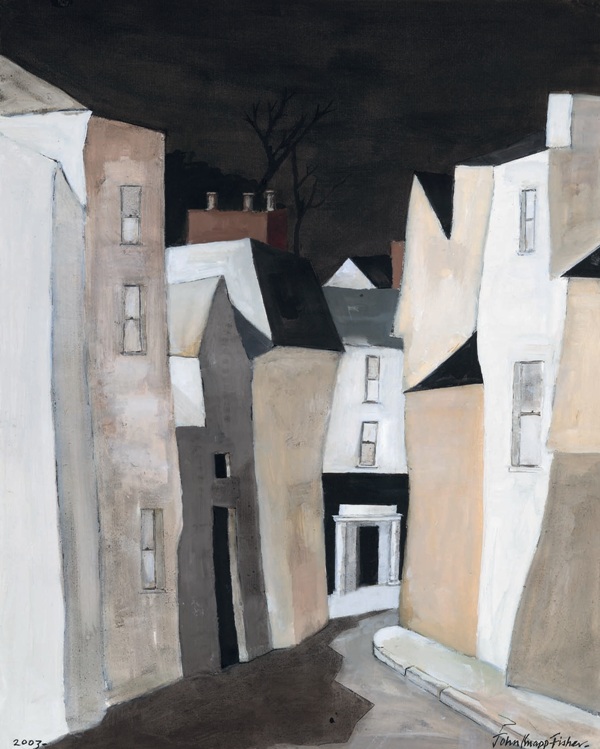 John Knapp-Fisher, Houses Haverfordwest. Copyright John Knapp-Fisher estate, courtesy of Martin Tinney Gallery
When his paintings climbed in price and his exhibitions typically sold out on their opening nights he might have moved somewhere more luxurious, but he stayed on at Croesgoch, a self-sufficient artisan-artist. Some observers felt he might be repeating his paintings to satisfy demand but he said 'to do the same picture again because it's worked is absolutely fatal'. Instead, reproducing images as prints and cards freed him from having to please. Nothing left the studio unless he was happy with it. He found material things of no importance, provided he could paint, cross the road for a pint, and potter about in his boat, but he loved conversation with good friends and his partner of his last decades, Gillian Pare.
He summarised his choice of subjects as 'landscapes, seascapes, buildings, boats, animals and fish'. These were mostly in Pembrokeshire, but he also painted and exhibited in South Africa, Suffolk and London. He set out the values he sought: 'An awareness of paint as a thing in itself; strong or vibrant composition; good structure of form or drawing; good tonal values'.
The extraordinary popularity of his images seemed to be in inverse proportion to his appreciation by institutions. Relatively few of his works are in public collections and he never had a major museum exhibition. He said after completing the new work for a major eightieth-birthday exhibition at the Martin Tinney Gallery in Cardiff that he hoped his next big show could be a retrospective.
John Knapp-Fisher, artist, born 2 August 1931, died 21 February 2015.
We feature further reviews and analysis in the magazine. See our contents pages in the excerpts section and you can buy issues here.