Catrin Stewart reports on what she saw when she volunteered with aid organisations working in the Greek capital city, Athens, providing support for refugees.
by Catrin Stewart
You should see the refugee crisis with your own eyes, hear the individual stories with your own ears; not just what you read in the paper or see on the news. You should see their sad eyes, their worried, hardened faces.
Speak to a Syrian boy, an Afghan man, an Iraqi lady and they will tell you why they are there. They speak passionately about their country, the beauty, its riches and culture. You should see their eyes when they talk about why they left. They tell you that they could not stay any longer. They had no choice but to leave.
One man tells you that he was a writer in Afghanistan but had to flee because his life was in danger. How he fled to Iran but had to run from there too, they also punish you for free speech. How he has now set up his own cobblers and works long hours for little money. He speaks Greek and English well. He enjoys his beer in the square with his friends and you think to yourself how he must long to write again.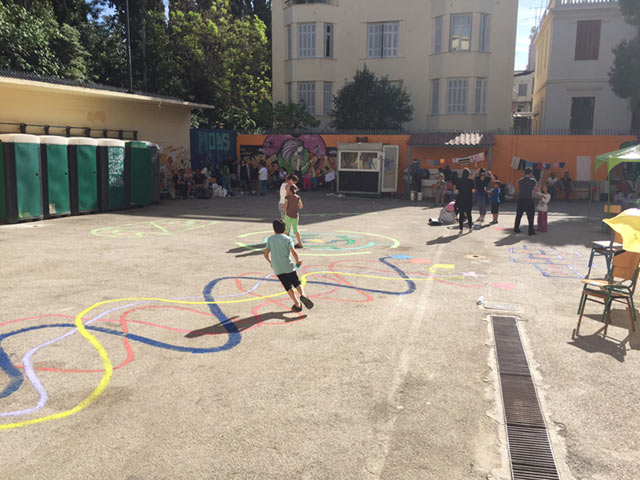 A Syrian lady tells you she's from Homs, the city that has now been destroyed. She tells you she is a teacher and is alone in Athens. How she spent fifty days at the Macedonian border waiting to be let through, to continue her journey to Germany to meet her family, but had to come back as the borders were closed. She describes it as a desert, with snakes, and so many children. She is waiting, scared. She hopes the borders will open again.
She looks at you with her big beautiful crystal blue eyes and tells you she doesn't belong in a place like this. She looks as though she has had enough of this life, is ready to give up, and asks you 'What do we do?' You have no answers. You try not to cry. She wakes up the next day and it will be the same again. She, like everyone else will wait for something to happen, for the situation to change.
A sixteen-year-old Afghani girl asks you to come and sit with her. She wants to practise her English with you. She tells you that she is tired of staying here, and that she has a painful toothache. She tells you that her parents are still in Afghanistan and she travelled with her brother and uncle. She hopes to reach Germany and recites some German words. She asks you if you are married or have a boyfriend. She asks to see a picture. She giggles when she asks if he loves you. She doesn't have a boyfriend. She tells you that the men there are horrible. She tells you that she wants to come back to London with you.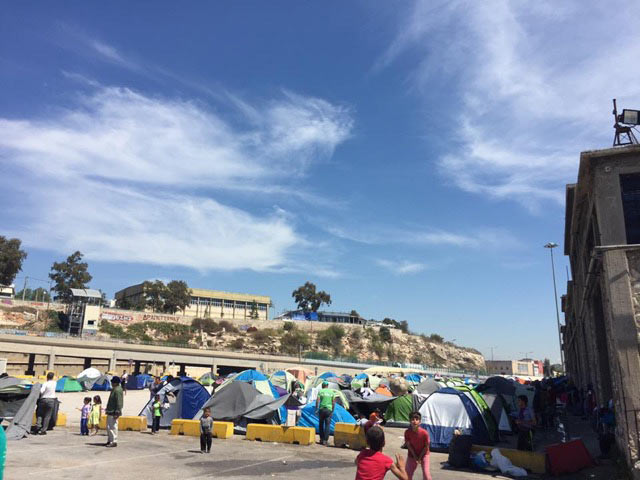 Men, children and families carry all their belongings and tents to a new area of the port, out of sight. They are not to be seen by the tourists who will be arriving soon for their Easter holidays. They try to make a comfortable home with tents and blankets but they wonder how long they will stay in the new spot. They all help each other, how practical they seem; they joke around and still manage to smile.
Children run up to you with beautiful faces and beaming smiles and want to play and hug. They count to ten with you in English and give you colourful drawings. Some of them may only know this way of life. Many must have made treacherous journeys on boats to get here.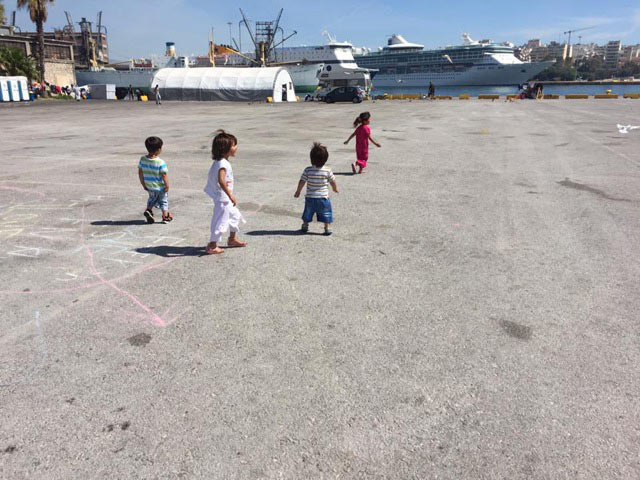 At the showers volunteers hand out numbers for women to wait their turn. They wait patiently. Women and children get excited when it's their turn. They may not have had one the day before, or the day before that. They may not have one tomorrow. The water is cold but they take their time and enjoy the only bit of privacy they have. They come out smiling and looking fresher. They ask for a hairbrush, or moisturiser and sometimes underwear but the supplies have run out; there may be more tomorrow. The volunteers don't know, but they hope. The volunteers don't understand what is being said; many languages are being spoken, but people communicate and laugh, somehow. A reminder they are still people.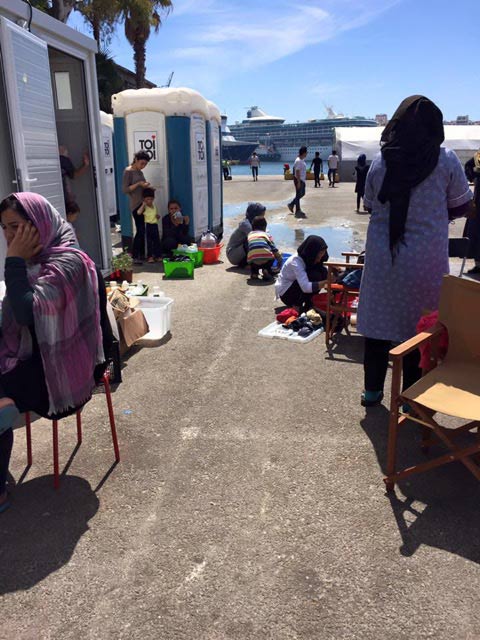 A Syrian teacher sets up a small marquee at the port and lays blankets on the ground as a makeshift school. Her twelve-year-old daughter helps her. The children sit with their legs crossed, engaged and wanting to learn. They have not been to school for a long time.
The teacher tells you that her ten-year-old son is in Germany. She tells you that she hasn't seen him in eight months and that she misses him so much; talking on the phone isn't the same as seeing him. How she longs to hug him, to smell him, to touch him.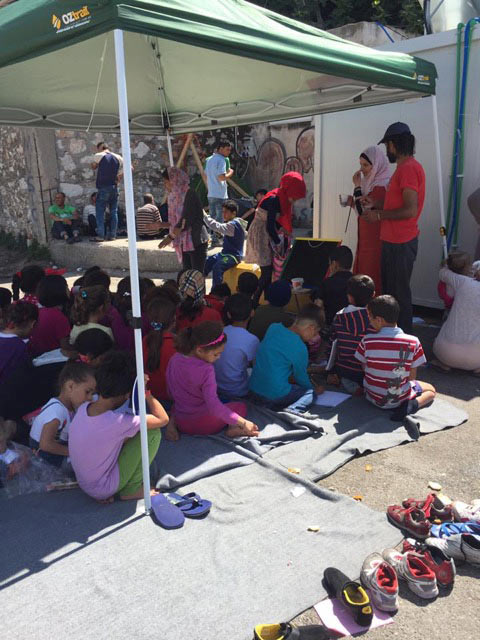 Two lines form at the food van, waiting for their cup of rice and vegetables and a piece of bread. Children wait patiently and come back for seconds, or thirds. They are thankful and smile, and eat their food in peace. The police will be nearby expecting trouble, but there's none.
The people socialise in the square until it gets dark and go their own ways. Some back to the camps on the outskirts of Athens, others to squats or to the port, or wherever else they can lay their heads that night. If it wasn't for this food, what would they eat?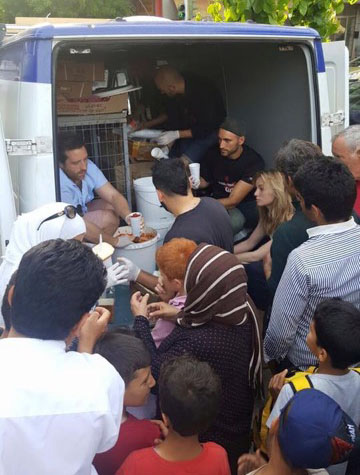 You are welcomed into a new squat. The building is owned by a Kurdish man who has let 120 Syrian Kurds and 70 Kurdish Iraqis stay. They are smiling and seem proud of their home. You see a ten-month-old baby wrapped up tightly in a blanket in the corner of the room and you think that she has some safety and comfort, at last. Her mother looks relieved.
And when you get home, back to your comfort and safety, you will think of them. You will shower, wash your clothes, cook your food and see your friends and family. You will go to bed at night feeling safe, stable and secure that when you wake up tomorrow, your life will be the same: good, peaceful and calm. You will not worry about the next day, or the next. You will know your family and friends are alive and well. You will know that you will see them soon. How lucky you are.