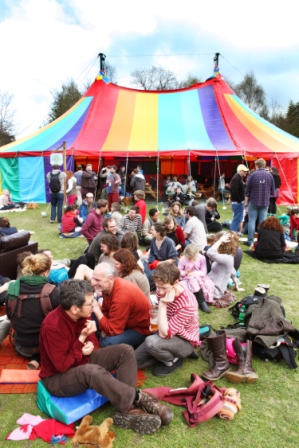 As the Machynlleth Comedy festival approaches, Aled Richards gives an insight into the experiences of a stand-up comedian on the Welsh-language circuit
I seem to have fallen into doing stand up in Welsh accidently.
I entered a competition to write a stand-up routine for the 2012 Eisteddfod, believing it would be a great opportunity to get critical feedback on my writing. On receiving a letter congratulating me on winning the competition, the joy lasted all of three seconds before I realised that I would be required to perform it, on stage, in the Eisteddfod, in three weeks. Terror set in. But, determined not to back down I set about learning my act word-for-word. Having watched comedians succeed and fail I knew that confidence, even if feigned, was the key. So I strode confidently back and forth in front of my mirror, rehearsing my lines, hairbrush in hand.
In a tent on the Eisteddfod field, following the announcement of my name as the winner, I took to the stage. A sea of expectant faces looked at me and I beamed confidently, my knuckles white, gripping the lectern for dear life. Feet glued to the floor, I started my routine and getting a laugh from the audience on my opening gambit, the words began to flow from my mouth by themselves. I gained confidence with each titter, giggle, laugh and guffaw and felt myself being carried on a wave of laughter. After what I considered to be my funniest lines, I paused for the inevitable laughter and heard nothing but silence. The wave crashed, my mind was blank and time stood still... but with a glance at my notes and a quip to the audience, the comedy flowed once more. They applauded, I let go of the lectern, and blood slowly returned to my knuckles. It had been a scary ride, but the adrenalin was pumping through my veins and when I was offered a few gigs I jumped at the chance.
There aren't many Welsh-language gigs and there isn't an abundance of Welsh- language comedians. While there are venues with regular comedy gigs in English, such a scene simply doesn't exist in Welsh. Often comedians have to arrange their own gigs in theatres, welfare halls and bars. It's hardly glamorous travelling, sometimes for hours, to the venue, pacing nervously in a back room, launching yourself on stage to perform, and travelling home in the dead of night.
I've been privileged to meet a wonderful bunch of comedians on the circuit. I found no egos or divas, just an enthusiastic, dedicated and hard working bunch. Seasoned professionals such as Tudur Owen, Phil Evans and Gary Slaymaker have given me great advice, as have up-and-coming stars such as Steffan Alun and Eirlys Bellin. Their friendliness should not come as a surprise. It's a tough job being a stand-up and a strong bond develops between comedians as they battle to get laughs from the audience. Sometimes the battle is easily won, sometimes it's a hard graft and occasionally a battle will be lost. I've seen very experienced stand ups have an audience in stitches one night only to perform the same set with the same energy on another night to indifference. There is nothing quite as long as the silence that greets an unappreciated gag. It hits you like a punch in the guts.
The inevitable question is why do it? It's a question I ask myself every time I'm about to go on stage. It makes me feel physically sick beforehand. Never more so than when I did a local gig, where I was on first name terms with most of the audience. I vowed it would be my last gig. It wasn't worth it to feel so ill. Yet, by the time I was off the stage the journey from gut-wrenching nerves to exhilaration was complete, with a rush like that from a roller-coaster ride.
Most comedians I've met do gigs in English as well as in Welsh and the general consensus is that it's easier in English. The language can hinder you in Welsh. You find yourself wondering what level of Welsh the audience will have will they know the word for gravity if you put it in your set? It's a hurdle which simply doesn't exist in the same way in English. Yet they continue to do gigs in Welsh as there is an underlying belief that the language deserves a thriving comedy scene to show that it is alive and contemporary. Thanks to enthusiastic individuals such as Noel James and Daniel Glyn there are events out there and the Welsh-language comedy circuit is developing and growing.
So if you are a Welsh speaker, support the comedy gigs in your area, and get your friends to come. They really are a laugh. And as Gary Slaymaker once claimed, 'We're saving the language, one gag at a time!'