Trump's betrayal of the Kurds is a monumental strategic and humanitarian failure
by Jonathan Edwards MP
Jonathan Edwards MP, Plaid Cymru's Shadow Spokesperson on Foreign Affairs, argues that Trump's withdrawal of US troops from Syria has disastrous implications, and details the urgent steps that the Westminster Government now needs to take.
It took one phone call for Trump to turn tail and run in Syria, but the damage caused could be immeasurable – lost lives, further regional instability and a shift in geopolitical arrangements which has rattled NATO and ceded effective victory to Assad, Russia and Iran. As Assad's forces seize formerly Kurdish-held towns and assert regime control over northern Syria, we must take action to curb Turkish aggression to prevent a slaughter of the Kurds and the resurgence of ISIS.
To understand the full scale of this crisis, it first important to understand Turkey's motivations. In President Erdoğan's eyes, Turkey's invasion is not just another military operation but is instead tied to national security considerations and domestic politics. Turkey's own long-running battle with Kurdish insurgents fighting for autonomy has meant that Turkey sees Kurdish efforts to build an autonomous region in Syria as a direct threat to Turkey's national security. With evidence seeping out of Syria showing captured Kurdish fighters being executed on Syrian roadsides, there can be no doubt of the profound and increasingly violent ethnic dimension to Turkey's invasion.
The importance of this intervention to Turkey's political and military establishment can therefore not be ignored. Turkey will make no apology for what it sees as an operation to end the Kurdish threat, nor will it give up for fear of losing face and security in a region where the use of force is increasingly normalised. However, the UK and the international community must make clear that the ethnic cleansing of Kurds, either through violence or displacement through the deliberate resettlement of Syrian refugees in formerly Kurdish areas is acceptable.
Trump's decision was wrong not only for creating yet another humanitarian disaster in the Middle East, but also because it represents yet another major strategic failure by the US and its allies.
Haunted by Iraq and burdened by Afghanistan, the international community was reluctant to put troops on the ground when faced with ISIS. Instead, with Iraq in turmoil and Syria in opposition, the international community offered military and political support to Syrian and Iraqi Kurds – who with their Turkish cousins form an ethnic group described as the world's largest stateless nation – to fight ISIS as the international community's foot soldiers. Despite paying a heavy price, the Kurds fought and won, capturing thousands of ISIS fighters. Now, with Turkish forces pouring across the Turkish-Syrian border, those prisoners are escaping as the Kurds redeploy their resources to fight the Turkish threat, creating the real possibility of a resurgent ISIS which again threatens international security.
Having been abandoned by their Western allies, the Kurds have compounded our failure in Syria by turning to the only force left capable of containing Turkey – Bashar Al Assad's regime and its Russian and Iranian backers. As Assad's troops move north to occupy territory previously held by Kurdish forces, all under the protection of their Russian allies, it seems the Assad regime has effectively won the civil war it began in 2011. Almost without consequence, Assad has re-established his dictatorship over Syria at the cost of half a million lives and despite his use of chemical weapons, indiscriminate air strikes, mass starvation and torture. The Kurds' acceptance of Assad will help ensure the regime's ultimate victory and underlines the shameful legacy of Western interventionism in the Middle East.
Trump's decision to abandon the Kurds is a monumental strategic and diplomatic failure which the White House realised too late, with the human cost paid by the Kurds. It has no doubt undermined the integrity of the US and its allies internationally and effectively paved the way for Assad, and his Russian and Iranian allies to claim victory.
The UK cannot stand idly by like Trump wishes to in the surreal hope that by sacrificing our foreign interests, the beleaguered British state will be able to secure a favourable post-Brexit trade deal. To stop a brutal massacre of our Kurdish allies, protect our geostrategic interests and protect our diplomatic integrity and standing, the UK must act to curb Turkish aggression.
After speaking in the Commons urging the British Government to follow the example of our European allies, the UK agreed to suspend arms exports to Turkey pending review. I have also called for the British Government to consider reviewing Turkey's membership of NATO in light of its aggressive behaviour which has included undermining NATO defences by purchasing Russian-made missile systems and ratcheting up tensions with Greece, which is both a NATO and EU member, over Cyprus and by repeatedly violating Greek airspace. Equally, Turkey's aggressive regional policy poses dangers to NATO as it escalates the risk of Russian-Turkish confrontation. In the event that Turkish forces are attacked by Syria or Russia, Turkey could invoke NATO's collective security provisions, globalising this conflict.
While we must take urgent steps to prevent the slaughter of our Kurdish allies and moderate Turkey's aggression, the unfolding disaster in northern Syria was made possible by President Trump's weakness. In this disaster, we should learn to be wary of Trump, our 'ally' in the White House, and his haphazard and transactional approach to diplomacy.
If you appreciated this article, you can read longer articles on a wide range of topics in Planet magazine, and you can buy Planet here.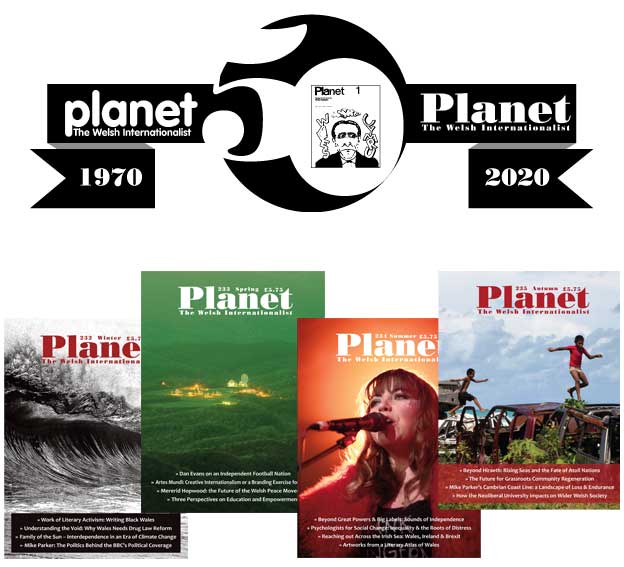 "Since its inception almost half a century ago, Planet has consistently pushed our boundaries of discourse. It has challenged, provoked and inspired, and always remained true to its own subhead ('The Welsh Internationalist') by placing our small country in far wider contexts. In a world where so many are hell-bent on building barriers and narrowing horizons, we need it now more than ever." - Mike Parker, author.
You can contribute to Planet's future following successive cuts to our funding by taking out a Supporters' Subscription. Our new Supporters' Subscription packages include a range of exclusive products, benefits and reading experiences drawing on nearly 50 years of Planet's history. For more information please click here.