An alternative history of the Rugby World Cup, 1971 to the present
by Luke Upton
Absolutely Huge author Luke Upton imagines how rugby and Welsh history itself could have been very different had the Rugby World Cup started earlier… On reaching 1987, he relates his personal history of the World Cup, from toddlerhood to fatherhood.
What would you do if you could travel back in time and change history? Yes, there are dictators who could be nudged in different directions or outrageous bets that could be made. But what about this one? To hop in the time machine and journey back to the late 1960s and convince the rugby powerbrokers to start the World Cup then, and not when they finally did in 1987…
Imagine, Gareth Edwards, Gerald Davies, Ray Gravell and the rest competing for the Webb Ellis Cup. It would hardly have been a contest would it? That glorious 1971 final 18-8 win over England at Twickenham, followed by the defence of their crown with a 9-6 victory over New Zealand in a rain- lashed Dunedin in 1975 ̶ and the invention of a new meaning of the term Triple Crown, hammering the Scots 28-3 at the old Arms Park in 1979. Yes, the run came to a shuddering end in 1983 with a group stage defeat to Zimbabwe sealing Wales' early exit. But what a run it was!
The trio of World Cup wins was thought to have given Wales the confidence to vote in a landslide for devolution in 1979, and begin the path to full independence in 1991 when Wales became a confident republic under the leadership of President Carwyn James, and a proud member of the European Union…
Of course, this is just a daydream. By the time the tournament finally appeared, the golden generation were back behind their desks, tools or tractors.
But moving back into reality, for me the Rugby World Cup has always been special. As a fan of football and rugby, the RWC is the only event when Wales are consistently represented at the finals of a truly global competition (with all due respect to the sportspeople of the 'Commonwealth' Games, and the European Championships only represent one continent after all, however glorious Wales' participation was in that dreamy Summer of 2016). But even more than that, the RWC's somewhat awkward date structure, with none of the round even numbers of the football World Cup or the Olympics seem to match up with some major milestones in my life.
So, if we move on to the first of the real ones, 1987, I was three. I have no memory of it. But I still take pride in Wales coming third ̶ a bronze medal!
I have no memory of 1991. But I like very much that games were played in Pontypool and Pontypridd.
My first World Cup proper was 1995. I clearly recall our defeat to Ireland. As a finnicky childhood eater, I also remember eating a lot of poppadoms. This game was immortalised as a 'classic match' on Jonah Lomu Rugby for the PlayStation where you could play the last six minutes and change the course of history. However, I was so bad at this game I always made the result even worse.
We were the hosts with the most in 1999! Max Boyce glowing and elated with the eyes of the world upon him in the opening ceremony. It was the last hurrah for proper cotton rugby shirts and collars as I started my GCSEs. My bonus memory was seeing David Campese grumpily walking through the Hayes in Cardiff. I think I was star-struck. He was smaller in real life. His thoughts on me remain undocumented.
2003: It was the first term of my first year at university in England. I was watching us nearly beat England in my dorm room with my brand new English flatmates and a bemused Swede one Sunday morning. I still think we should have won that. I had to feign mild happiness at England's final win ̶ I don't think I really convinced anyone.
It's 2007 and I've just moved to London. That Fiji game… I clearly remember turning to my brother as Martyn Williams scored what looked like the decisive try and saying 'thank God for that!', and flopping back on the sofa relieved. The joy was short-lived. The beers continued, leaving me with an awful hangover. Gareth Jenkins arrived home for his sacking with his Toblerone poking out of his duty free bag. Duw duw.
2011: I'm watching the Samoa game at my girlfriend's flat. It's a 3am kick off, so lights are off and the sound is down so as not to wake her. Then in the quarter finals trying to hide my immense delight at the win over Ireland, and even more so as said girlfriend is Irish. Magic Mike Phillips! I experienced intense heartbreak at the defeat to France. I went to the pub to watch it and had two pints, so a weird hangover kicked in at about 9am. I didn't know what to do, so went to the Natural History Museum and found myself blearily starring at a big dead stuffed whale, and thinking that was about right.
There were absolutely crazy scenes at the win over England in 2015. I still watch that try on YouTube and expect Gareth Davies to knock on. I inexplicably saw Romania play twice, and enjoyed their fans dressed as Dracula both times. My aforementioned Irish girlfriend became my Irish wife mid-tournament. England's defeat to Australia was on the telly at the Dublin wedding reception, and there were cheers from the Welsh and Irish as Slammin' Sam Burgess' brave boys crash out. Requests to turn the game off early from the English guests were duly obliged. I watched the group stage defeat to Australia in a bar in Bali on honeymoon. Bintang beers wrapped in little wetsuits didn't take the edge off the missed opportunity. They were down to 13 men! The mood was not helped by the old Wallabies fans with their young wives trying to wind me up. They succeeded.
And 2019? I'm going into the tournament with a weird feeling of expectation. Anything less than a semi-final is a disappointment, right? Me? I'm watching with a newborn baby, a brother to a two-year-old sister. No beers, just early mornings, coffee, bagels and bananas. Two small Welsh-Irish kids in London watching wide-eyed and a little perplexed as their Dad gets worked up at the men in red running around on the screen . Another big year.
2023: Wales aim to defend the trophy they won on that glorious night in Yokohama…
If you appreciated this article, you can read longer articles on a wide range of topics in Planet magazine, and you can buy Planet here.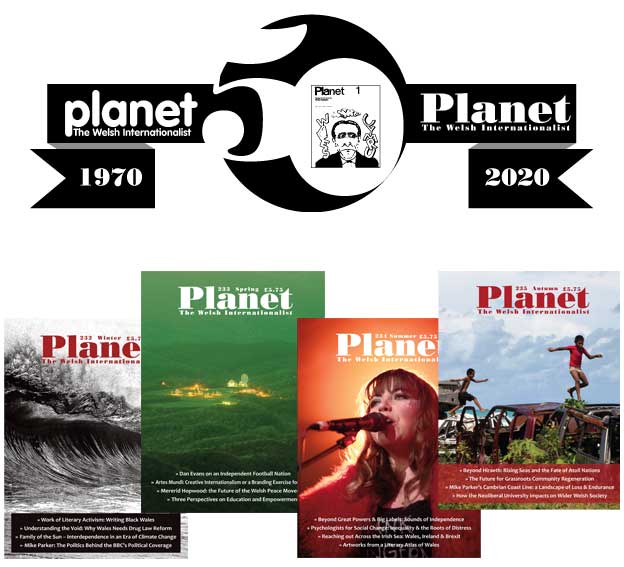 "Since its inception almost half a century ago, Planet has consistently pushed our boundaries of discourse. It has challenged, provoked and inspired, and always remained true to its own subhead ('The Welsh Internationalist') by placing our small country in far wider contexts. In a world where so many are hell-bent on building barriers and narrowing horizons, we need it now more than ever." - Mike Parker, author.
You can contribute to Planet's future following successive cuts to our funding by taking out a Supporters' Subscription. Our new Supporters' Subscription packages include a range of exclusive products, benefits and reading experiences drawing on nearly 50 years of Planet's history. For more information please click here.