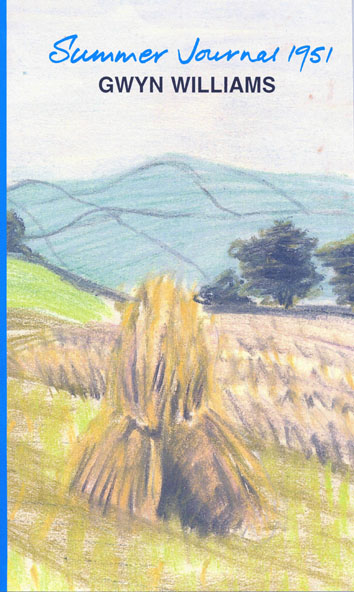 £5.75
Mynydd Bach is an area of still unspoilt moorland in Ceredigion and a wild, special place even to those without local roots. For Gwyn Williams, writer and pioneering translator of Welsh poetry, it was the spiritual and ancestral home where he would live for many years. In the summer of 1951 he returned from Egypt to Trefenter for one of many home leaves and kept this journal. Living in a remote cottage with his artist wife, Daisy, he cut peat on the mountain, hunted and fished, observed wildlife and the migration of birds, and made hay in traditional style surrounded by friends and relatives. Illustrated by drawings paintings and photographs by Gwyn and Daisy, the journal captures a vanished life. Published to celebrate his centenary, it has all the earthiness and evocative detail of Gwyn Williams's writing.
Excerpt
A fine hot day. Spent the afternoon laying in the potato field, with David and Llwyd the pony scuffling and ploughing back the earth. After tea planted mustard, cress, lettuce and six weeks turnips in a half-row at the bottom of the field. Daisy found a yellow hammer's nest with a sitting bird in a blackberry bush. Watered our seeds after supper. Went up to Cors Pwll yr Ych before dark to see the peat David has cut and were horrified by the number of black-headed gulls breeding there. Daisy estimated five hundred in the air...
Llyn Eiddwen in the afternoon and swam twice, the water not cold once one got under. Picked up a lot of wool the sheep are casting to make a cushion. After tea down to Tynant for wood and brought a good bundle home each. Rabbit in casserole with onions, herbs and bacon for supper.
It was excellent.