More Stuarts, please – and less of the Tudors
Hywel Dix is moved by Welsh National Opera's new production of Maria Stuarda (13 September – 28 November) but unimpressed by their Anna Bolena (7 September – 27 November).
18.10.13
As everyone knows, the Tudors are the most interesting period in British history. Whether you agree with this claim or belong to the growing ranks of doubters, what you can't do is ignore it. From popular films like Shakespeare in Love and any number of truly mediocre television series to Hilary Mantell's Booker Prize-winning novels, evidence is everywhere: people love the Tudors. Even the Royal Shakespeare Company is making a foray into this domain in its adaptations of Wolf Hall and Bring up the Bodies. So it is perhaps unsurprising to see Welsh National Opera having a go too with these Donizetti operas.
Unfortunately Alessandro Talevi's production of Anna Bolena is a dramatic disappointment. The singing is clamorous where it should be proud; prosaic where it should be lyrical. The action feels static and the drama, if there is any, oddly unmoving.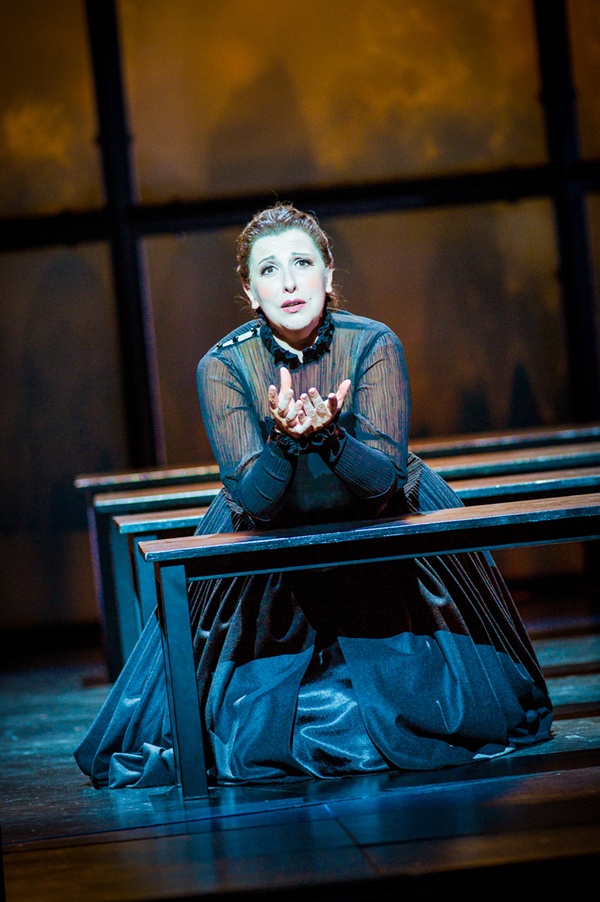 These limitations are not enhanced by the set or costume designs. The turntable that represents the rotating wheel of Anne's fortunes seems like a contrived device, not integrated with the action or music. All dressed up like a pantomime villain, Alastair Miles is no Henry VIII. Katharine Goeldner as Jane Seymour is given a deeply unflattering look and her vocal performance feels constrained.
Robert McPherson is more impressive as Anne's would-be lover Lord Percy, and the quality of singing and acting seems to rise during his scenes. But Serena Farnocchia as the tragic queen lacks dynamism and struggles to create an intimate atmosphere with her audience – both on stage and off. Perhaps the problem is that the story is historically too familiar, leaving little room for tension or suspense. Having failed to build a real rapport with the audience, and knowing in advance what was coming, it was hard to feel deeply moved – or even interested – by Anne's fate.
An interesting fact about Anne Boleyn is that she was executed in 1536, the same year that Henry's Act of Union in effect brought the geographical entity of England-and-Wales into being. The production will be touring through that same England-and-Wales, a unit that did not exist as such in Anne's own day. And this production also feels out of time.
Flash forward half a century or so for the next instalment of WNO's Tudor series, Maria Stuarda. Here at last is everything that Anna Bolena lacks.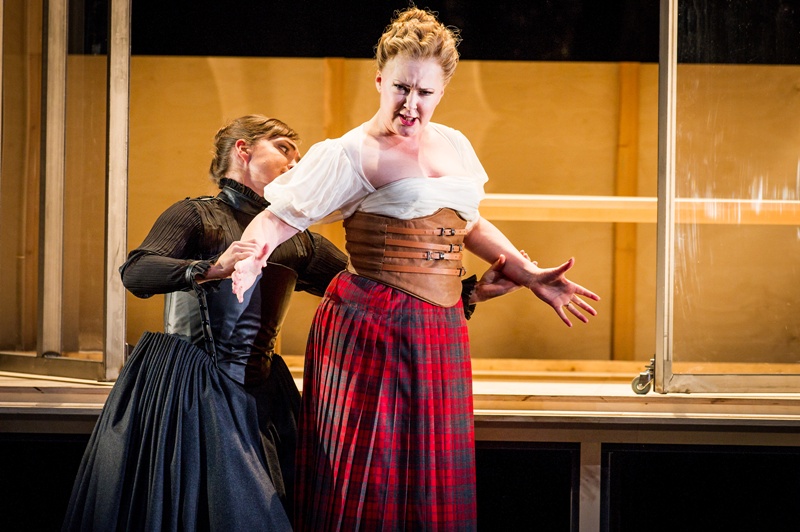 At the start of the action, Elizabeth has been Queen for almost three decades and Mary Queen of Scots has been imprisoned in Fotheringay Castle for two of those. The action, such as it is, centres on the efforts of Talbot and Leicester to secure her release. In the end, jealousy that her own favourite, Leicester, should espouse her rival's cause motivates a cruel Elizabeth to send Mary to her death.
An Italian Catholic of the baroque period, Donizetti portrays the Protestant Elizabeth as a calculating villainess rather than the heroic queen so often presented in textbook histories. This is the strength of the opera. It succeeds where Anna Bolena fails: in telling a familiar historical story from an unusual perspective and introducing a critical element of drama.
When Anne Boleyn is dragged before the council for sentencing, there is little of defiance or anger or even fear. Anne (in these productions at least) goes placidly, even limply, to her death. The key scene in Rudolf Frey's production of Maria Stuarda is when Mary comes before Elizabeth (Adina Nitescu) supposedly to beg for release from captivity. Instead, she ends up bitterly, angrily and strongly insulting her – thus dramatically sealing her own death warrant. The contrast could hardly be more complete.
Another important scene is when Mary is asked by Talbot (a much more adept Alastair Miles) whether or not the rumours that she was involved in the assassination of her own husband, Darnley, are true. She begins by implying yes and ends up by answering no. Her words bespeak not so much a logical contradiction as a range of emotional complexity.
Judith Howarth is an impressive Mary, capable of articulating that complexity. The singing in her scenes with Bruce Sledge's Leicester is impassioned and beautiful, soft and defiant by turns. Howarth is ably supported by Rebecca Afonwy-Jones in the role of Hannah, Mary's companion. This relationship between confidantes gives the whole production an intimacy and vulnerability that is lacking in Anna Bolena. It ensures that there is real poignancy to Mary's final ascent to the scaffold, a poignancy to which the chorus also contribute.
Along with Donizetti's
Roberto Devereux
which is also being performed, these operas form a kind of Tudor trilogy for both the composer and the company. Having seen the first two, and leaving productions and performances aside, it may simply be that
Maria Stuarda
is a better opera than
Anna Bolena
.
We feature further reviews and analysis in the magazine. See our contents pages in the archives section and you can buy issues here.