Between Spaces - Six Printmakers
Aberystwyth Arts Centre, 18 March to 11 May 2013
Stuart Evans is impressed with the energy, skill and artistry in the work of six contemporary fine art printmakers.
21.05.13
These are people searching for expression and investigating the spaces created between objects, people, memories and landscape. There are beautiful moments of personal vision. There are new ways in which print is combined and used. There are combinations of techniques not seen before. But as we experience the work there is more than pure technique. As Pete Williams states the 'processes are predominantly print and I am keen to show the diversity of the area; the essence of the work is in the nature of its content.'
The investigation of those spaces is the key and we are given the chance to wander into those regions.
Pete Williams (artist in residence at Aberystwyth Arts Centre in 2009)
The work of Pete Williams is massively impressive. His enormous circular sculptural carved wood blocks are displayed as works in themselves and the resulting prints are glued directly onto the walls, around corners, adding to the three-dimensional physical splendour and extraordinary scale of his pieces.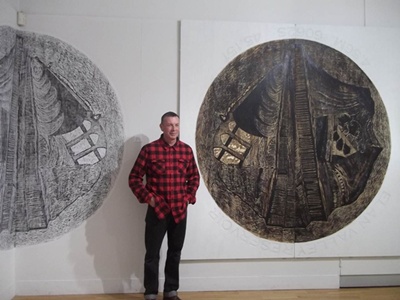 His chosen theme of the lead-mining industry and his expressive use of black and white add force to the power of his images. They are bold and earthy. His 'Silver Mine, Aberystwyth 4.09m 65465 47.05T woodcut block and ink 2012' suggests the scale of the industry in its heyday. The sculptural waterwheel still exists at Llywernog mine, just east of Aberystwyth in the Cambrian mountains, and this work goes some way to reflect that important aspect of that local history.
Wuon Gean Ho (East London Printmakers Workshop) and Paul Croft (lecturer and printmaker at the Aberystwyth University School of Art)
Wuon Gean Ho includes a series of self portraits conveying the psychological and spiritual, taking us deeper into the mind and personality of the artist. She suggests moments of experience and things past and seems to suggest the spaces between those times. These larger than life images haunt the gallery like death masks. Her blank black eyes, surrounded by creases and deeply scarred carvings look like woodcuts but are produced by silk screen. The multi-layered works have a menacing vibrancy which is counter balanced by the quiet and studied lithographs of Paul Croft. His jigsaw puzzle images are framed in multiple box shapes. His spaces are those of the patterns between objects filled with muted colours which suggest the patina and fading of age. His use of tusche is masterly and he allows the stone lithogaphic technique to play its magic, flowing randomly yet confined. He plays with computer graphics but the process is buried in the technique. His precious patterns, invented calligraphy, animal motifs, decorative tools, museum specimens are displayed in compartments, frames, like busy pages from a Book of Hours.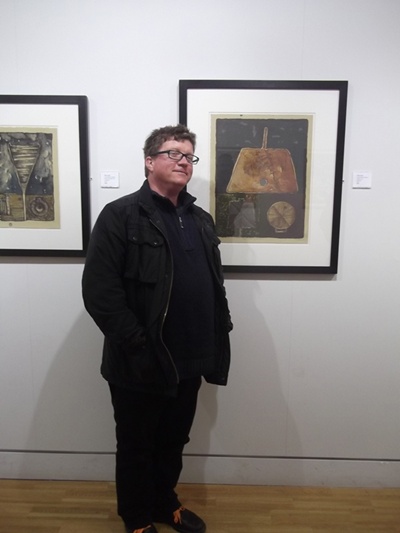 What is obviously striking about these two artists is the fact they both work in series and that is the joy of the artist as printmaker. We are given a more in-depth view of the mind of the maker by seeing a progress of thoughts. We are able to follow a sort of narrative in the development of the work.
Steve Edwards (East London Printmakers)
Sitting central and in total opposition to these works comes Steve Edwards who uses a variety of print techniques, etching and lino cut, sometimes in the same picture to explore more personal and emotional territory.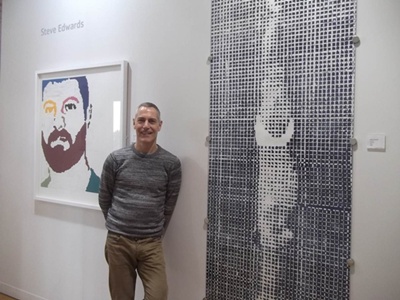 His one-off prints seem random – a look at city landscape, a portrait of a friend, a repeating pattern, a cloud in the sky, thought of love and sexuality. These are multifaceted with processes overlapping but the random nature of these mixed images means that they have to struggle against the strength of the surrounding work which dominates due to their repetition and scale.
Lou Thornton (Print Market, Cardiff)
Lou Thornton's work is black on black. The layering of black silk print on black matt print is subtle and absorbing. Her stark shapes are bold and empty. She has removed all narrative leaving us with darkness.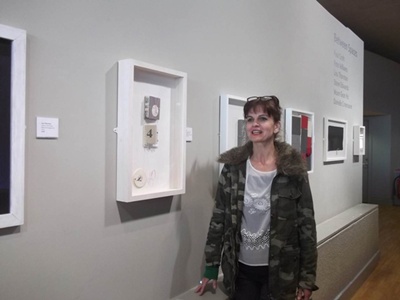 She also presents us with a series of packaged books contained in box frames sealed and untouchable. The printed objects are tied and removed, secure behind glass and it almost seems as though they deny the audience direct experience. The minimalist nature of her prints might be part of the message and perhaps the blackness of the image is part of an exclusion, allowing us a space. She seems to be exploring the idea of a nothingness.
Danielle Creenaune (Australia)
Danielle Creenaune evokes a strong sense of place in her work. We experience a spiritual and mythical landscape. This is where something might have happened, or is going to happen. By simply suggesting this our minds are filled with possibility. It is the art of selection, leaving things out, putting enough in to tempt us to get involved. We find a few trees, a pond, may-be a path. We are given the clues to the space suggested and the journey through the picture is ours for the making. With a painterly gesture she is able, through stone lithography, to print a relaxed and free brush stroke. Her monochrome images printed on chine collӗ, seen set against large expanses of pure white paper occupy another dimension; isolated as though on a cloud in a dream or in the smoke from a bush fire.
We also feature many reviews and analysis of cultural performances and events in the magazine. See our contents pages in the archives section and you can buy issues here.