Kick It Out: Fighting fascism through football in Eastern Europe
Tim Hartley on a week in Ukraine at Eurofan 2013 – the friendly football festival marred by persisting signs of fascism and racism.
11.07.13
My new friend Bruno wasn't a football hooligan. But then how was I to tell? The captain of the Croatian supporters' football team was certainly a good singer:  he led his compatriots, right arm across his chest, hand on heart, in a rousing nationalistic song. It may even have been the Croatian national anthem. His team's vocal efforts resounded off the arched brick ceiling of the Partisan cellar bar beneath Lviv's historic Rynok central square, where nationalistic Ukrainians were said to have held out during the war. The blood vessels on the young men's necks bulged at the effort in the midsummer heat. Welcome to Eurofan 2013, where friendships are made through football, and the odd drink or two.
Lvov, or Lviv as it is called in Ukrainian, is the self-styled cultural capital of western Ukraine. With its cobbled streets, fine universities and graceful yellow Habsburg buildings you feel you are on a film set, rather like Prague before the tourists arrived. Lviv was left unscathed despite being occupied by both the Soviets and the Germans during World War II and is now a UNESCO World Heritage site. It is now also home to Eurofan, a supporters' tournament that attracts teams from across Europe to celebrate friendship through football.
Oleg Soldatenko supports the local Karpaty club and set up Eurofan seven years ago. 'Sure, we've had our fair share of problems with hooligans. My club's no exception,' he told me. 'Part of the reason we set up Eurofan was to show the world that Ukraine and Poland could run the Euro 2012 without it all kicking off.' And he was right. Last year's European Football Championship was, for the most part, violence free. But both host countries have in the past shown the all too ugly side of the beautiful game.
Clubs across southern and central Europe are still blighted by hooligans. Some are just madly passionate about their team. Others, however, adopt fascist politics, are openly racist and homophobic, and arrange fights with other gangs before and sometimes during games.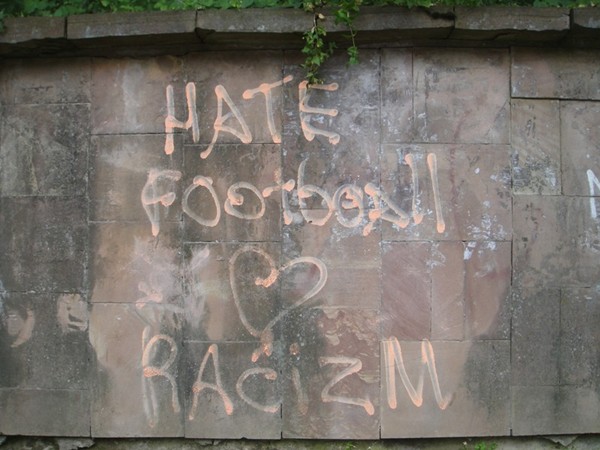 But Oleg and his team of volunteers are trying to change perceptions and they are keen to show a more constructive side to football. During the Eurofan tournament supporters visit children's homes and charities across Lviv with gifts of sports kit, toiletries and sweets. John O'Neill told me how his Ireland team had raised more than six hundred Euros. 'The lads really got into it and this is our chance to give something back to this city. The craic is great and everyone is so welcoming here,' he said.
Eurofan may badge itself as the 'friendly' football festival but the ugly side of soccer in Eastern Europe can all too readily raise its head. Two years ago I had seen three black players barred from returning to a caged training pitch to collect their shin pads. 'You are not welcome here,' said a Polish fan in broken English, and made a gesture as if slitting his throat. Ironically, they were targeting the Serbia national supporters' team, a group of fans known only too well in Britain for racially abusing players at full international fixtures.
That same year the Wales supporters' team had played a bruising encounter against the Ukrainians but all was forgotten as the teams left the field. The Ukrainian midfielder who had tormented the Welsh defence struggled to pull off his drenched yellow and blue jersey. He had the words 'White Hooligan' in old Germanic script tattooed across his belly. And on the back of his neck was a blue cross and a circle, the symbol of white power.
This year though there was no trouble and Eurofan lived up to its slogan, 'Football, Fun, Friendship.' At the same caged pitch where I had witnessed naked racism, the red hand of Ulster, Northern Ireland's flag, flew alongside the Republic's tricolour while the home-made banners of the Bulgarian and Zenit St Petersburg teams were tied to the fencing behind the other goal. It was a colourful celebration of everyone's shared passion for football. All the players were there to win but when a team's numbers were depleted through injury or too much of the local Lvivskyi beer, players from different nations stepped into the breach to make sure there was a full side. 'Our team should be renamed the United Nations,' the Wales coach, Neil Dymock, joked. 'We had two Georgians, a Dane and a couple of Ukrainians play for us.'
The day's football over we took up the Swedish fans' invitation to a midsummer celebration. Players chatted in broken English and sang late into the night. The men from the Republic and Northern Ireland, Russia and Georgia, who on home ground would probably never speak to each other let alone share a drink, swapped shirts and email addresses, forgetting for this week at least, any political differences their countries may have. The vodka flowed, the volume pumped up and then someone lit a flare and, under the pink phosphorescent haze, the young men danced topless to a thumping Euro disco beat.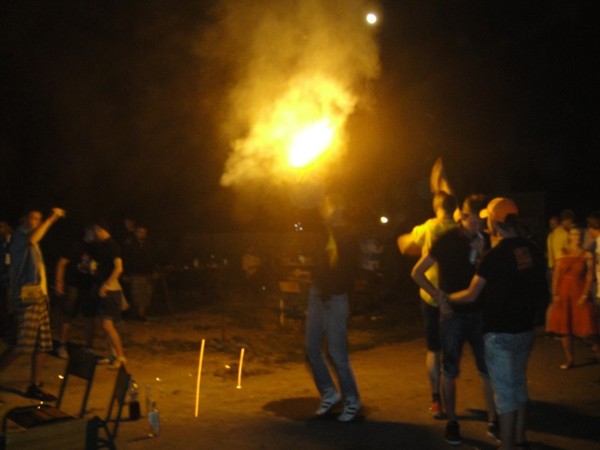 Sunday's final pitted the Bulgaria national team against Romania's Dinamo Bucharest. Built in communist times, the crumbling S.K.A. stadium had seen better days but it crackled with anticipation under the baking midday sun. The game ended one all and the dreaded penalty shoot-out ensued. Bulgaria ran out winners and celebrated wildly on the pitch. I watched the closing ceremony with Lydia Shaley, a polyglot law graduate from Lviv who volunteers every summer as a guide to the visiting teams. 'They're always a great bunch of lads. And I get to practise my Russian with the eastern European teams and my English with the Welsh and the Irish,'
We stood on the rickety terrace and watched the victorious players parade around the pitch below us. One man's shirt caught my eye. He was in his late forties and about sixteen stone but had just about squeezed into his football jersey. I guess he could have been the team manager. On the back in Cyrillic script was the word 'ДУЧE' (Duce), a nod to Italian fascist leader Mussolini, and below that the numbers 8 8. The eighth letter of the alphabet is H, and H H is code among some fascists for 'Heil Hitler'.
After a week of great football and friendship, it left a slightly bitter taste. Lydia looked embarrassed. 'Things are improving over here, honest,' she said, 'but it's going to take a bit of time.'
We also feature many further reviews and analysis of cultural performances and events in the magazine. See our contents pages in the archives section and you can buy issues here.